Name: Anthony Smith
Age: 14
Gender: Male
Description (with image):like a Twin of Jeremy...A picture of Twin Day at Kadic(Notice the Shirt):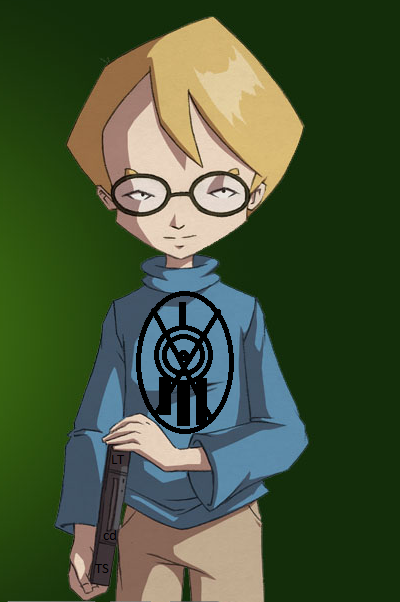 Background (Short or Long your choose):Born in Miami FL,USA and then moved to france to attend school at Kadic(weeks after Jeremy found the Supercomputer).He found a old abandoned Car factory in the outskirts of the campus and went there once to find out what it had.He found a Supercomputer on and found 3 scanners...He also found a Computer Terminal in the next level..He was a native born computer hacker and pro and found some Video Diaries of Jeremy Belqua(Correct me if im wrong).While he was reading,someone was going through the elevator and Jeremy Found him.....Then you know how it goes from there.
Weapon (with image):Chaingun that shoots Regular bullets.ice bullets,fire bullets,emp bullets (Press a button ontop of the chaingun to find a control panel to access all Supercomputer Programs and functions
Class:Lyoko Warrior & SuperComputer Backup Operator
Free skill and Power: Skill:Can run pretty fast without any powers helping him Power:Can access all Supercomputer Functions & Programs
the Free skill and powers are as followed (along with weapon for some):
Class =Skill =Power =Weapon
Xana Monster =Target Lock-On =Lazer Charger(charges enough,it devirutalizes someone on contact) =Lazer
Xana =Tower Activation =Monster creation and Warrior call =(Ask XANA not me)
Xana Warrior =Telepathy =Quadruplicate =Can make any weapon he wants to.
Xana's Guardian/Princess of Lyoko=Tower Activation/Deactivation=Creativity =SimuMaker
Lyoko Warrior =Run fast without any powers =Access to Supercomputer =ChainGun
Guardian/Princess of Lyoko =Tower activation/Deactivation=Creativity =SimuMaker
their is only one Guardian/Princess of Lyoko.